Clouds is a thing intriguing and scaring at the same time, but not so many "our real" examples of how people deal with cloud providers.

We were lucky: our real customer shared his own case. This is a real story with real figures and requests – about how it was going with the local hosting-providers and with which problems this cooperation was connected, about how the entire customer's data base was "accidently" deleted when transferring, and about the importance of not WHERE but with WHOM leasing the capacities, the services vendor is important. This case is an example of that good marketing does not guarantee a good service. Well, let's give the word to the customer…

"Everything started from that the large pharmacy network needed a web-site and hosting for it. Maybe it'd be okay, but we had a big catalogue with a great amount of photos. Beyond expectations, the start of their E-shop became possible only from the "third hoster" :), and then came servers lease, and then we got "to the cloud"…. But first things first.
Some words about us: pharmacy network "DS", 111 pharmacies, service 25 000 customers daily, work primarily on the West Ukraine — Lvov, Volyn', Ternopol, Chernovtsy, Ivano-Frankovsk, Khmelnytsky and Zakarpattia Oblast. Figures show better the business scope:

As in Ukraine Internet sale of medications is prohibited, we detached goods for online sale to the separate category. This list included cosmetics, non-medicinal drugs (vitamins, for example), medical equipment, etc. Accordingly, the first task of the web-page was informative - product instruction + photos, and the second – sale of goods assortment allowed for sale online.

Web-page was implemented on Bitrix and integrated from 1С. For web-page hosting we addressed to one of the Ukrainian hosters. For testing period we never had a chance to upload the entire catalogue. After fail we thought that the problem in that "no such hosting we met". Ok, we tried the other vendor – and again catalogue uploading failed once more. Suspicions about that something is wrong with our SF have been dispelled (tested on our virtual server – everything started working).

We should start searching for a hosting-provider capacities of which might withstand the load of our sizable goods catalogue. After 2 failed tries Ukrainian hosting decided to try hosting of the European provider. Upon taking the decision we've never felt sorry for that!

By catalogue uploading already from SIM-Networks, we've done everything at the first attempt easily and without delays. Ever since for four years the work with this hosting have passed successfully.
Putting in lease the other parts of our IT-structure
Besides the web-site, in view – to express politically correct – "some actions" of controlling authorities (recover 2013), we wanted to secure our infrastructure, our ERP-network, our data. Therefore we decided to take out the infrastructure into the "cloud". Our servers did not manage with the peak load and capacities should be increased. In particular, we talk about documents flow upload (see below). The initial idea was to transfer from SAS-drives on our servers to SSD, but upon calculation of the cost of such transfer we realized that it would be more profitable to lease required capacities. With those rates of growth as we have, the expensive equipment must be additionally purchased annually. Of course, such strategy is not profitable at all.

Upon monitoring all prices we initially tried to "get in the cloud" to one of the domestic hosting-providers – due to lower price. We took capacity for a test, downloaded copy of our system, for our opinion, tests – everything was okay. But after system started into productive, we were very disappointed. Within the whole 2014 we have been observing fails in data access leading to great delays in work.
Fails in access from Ukrainian hosting. How it was.
It was "amazing". For example, infrastructure productivity was falling something to 1-3 minutes and then quickly "rose". And this, at least it seems so, small delay caused a huge snowball of larger temporary delays and became the source of serious violations in our business processes.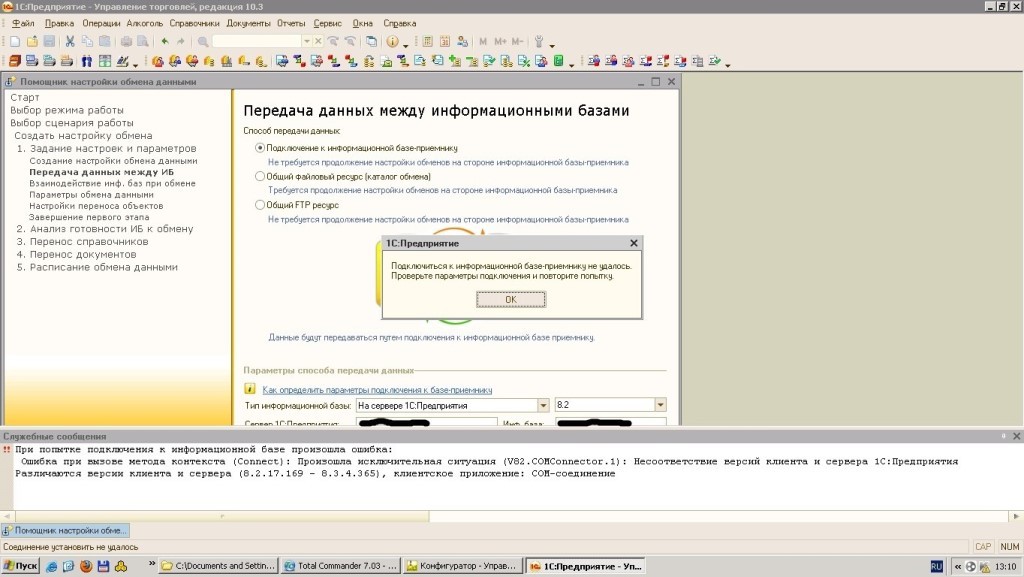 In the specific situation the problem looked like that: fall on hosting "only for 3 minutes" built a great line to our DB (all customers were "freezing up"), 1С system might for those 3 minutes "knock out" the block and all document packages of corners and divisions dropped out. Could it cause discomfort?

Oh, everybody was just "happy"– stamped their feet, curse and damn! At the level of a specific employee everything was progressing as a good thriller. Let's say that one manager downloaded several way-bills didn't know by fail - whether the transaction passed or not? As the other his colleagues at the same time this manager should delete all downloading transaction and manually enter un-downloaded way-bills. It was some kind of everlasting, boring, irritating and useless process. Monthly turnover of our network made about UAH 50 000 000, and because of such fails the company might loose up to 10%, i.e. about UAH 5 000 000 per month!

Feeling uncomfortable with making non-commercials, I won't name these companies-hosters.

Our peak load is something 700 package downloaded documents in the morning, of 9.30 to 11.00 a.m., and the same amount in the afternoon — of 15.00 to 17.00 p.m. Daily (each working day) around 15000 documents . All scope of documents was downloading at one and the same time and was under different processing — check of 1 way-bill may be carried out by 20 (!) positions.

It should be mentioned the original seasonal fluctuations of such fails on Ukrainian hosting: as a rule they happened at the beginning-end of the month (something about 10 days), middle of the month (obviously, when everybody submitted documents to the Pension fund), the 20th day (tax document period)".
Comments from SIM-Networks:
Such delays usually happen when the server designed for, let's say, 5 customers, the provider places 10 customers with (naive) hope that when they use all their (already bought by them!) capacities. We believe if the customer bought the place, bought capacity reserves, so whether they are empty or not – it would be the resource belonging to the customer and the customer him/herself may dispose, in his/her sole discretion.
The customer continues, "It was remarkable that the hoster did not reckon on the simultaneous use of all leased capacities by all customers. As a result, the resource guaranteed by the vendor, ordered and paid by us was not provided! There were no fails, obviously, only when our neighbors on hosting didn't use servers.

So, we spent much time to prove the hoster that this problem is on their side – started monitoring, wrote letters on failures. And only since a year of such torments the company-hoster agreed to buy "special for us" SSD-rackmount in its DPC. But it's too overly optimistic …

Migration of our data to this rackmount was performed awful. Provider promised to transfer this data base within a day, on the weekends. On Sunday at dinnertime restructuring of a new rackmount has not been finished yet, and we asked to return it back, whereon we heard back: but we transferred, then look – the system was up and we deleted the old DB. Hoster decided to delete these data as he thought that the migration had already taken place and it is not necessary to store them! We were shocked… In other words, they'd just destroyed the initial DB just before a new SSD-rackmount was restructured (!), and we need now to start our entire retail-network.

In view of such emergency situation we set up all data from backups. Full restructuring of our "new" SSD-rackmount carried out by the hosting-provider took a week! And all the while we should work more slowly on our reserve infrastructure. Can you imagine what means for the retail-network to stop for a whole week?!

We were ready to take a physical equipment from this hosting-provider for lease, whereon the hoster told us that we needed around USD 85 000 and offered us to buy this equipment by ourselves for installation at their data center. Sure enough that such alternative did not interest us.

In search of solution we tested different hostings – both domestic and European – and saw the difference.

On our servers 100 way-bills were downloaded within 16 minutes. Would 5 set persons downloading 100 way-bills, it was extended up to 2 hours and these 16 minutes turned into 40 minutes – 1 hour.

On SSD-hosting of the domestic provider the same document suite was downloaded for 9 minutes.
By SSD-hosting in European data center everything was downloaded within something 4 minutes. The main task we were solving was the liquidation of the lines to DB, and on the leased SIM-Networks provider capacities we could achieve the required result.

After accumulated unsuccessful, but extremely useful, experience we decided to lease by the European hosting-provider not virtual but physical infrastructure. The company transferred on it not only principal 1С-servers. After successful use experience we took for lease 2 additional reserve servers plus we moved the cluster turning on IT-infrastructure, file server, Microsoft Exchange, etc. In general, we leased several servers and a rackmount in DPC.
About economic practicability of capacities lease for IT-infrastructure
At the time when we though over the transfer to SSD, our servers has been already serving for us for 3 years, the warranty from the manufacturer was coming practically to the end (next business day) and it should be sold. This warranty required annually about UAH 300 000 (approx. USD 25 000 at that time) plus expenses for electrical power.

Calculations showed that by independent purchase of all required equipment we broke even for covering capital expenses in 3,5 years. Taking into account continuous company development, the amount of expenses for capacity of our IT-infrastructure might be increased in geometric progression.

Consequently, the lease of the same hosting-provider's equipment was modestly expensive and trouble-free of:
warranty prolongation and purchase;
increase of physical capacities (equipment upgrade);
expenses for electrical power.
We are going into the cloud!
We want to expand again, as we lack capacity, and seriously consider the alternative with the cloud. There are no concerns about transferring to the cloud as we learned by experience – it is not important the PLACE of lease, but THAT SOMEBODY we are going to lease, it is important to choose a reliable service provider!"

Andrei Semeniuk, IT-Director, D.S. Pharmacies network (Market Universal LTD)