Cloud technologies in business
Does the state-of-the-art business need clouds? Eight or ten years ago, owners and CEOs of enterprises of various sizes and business areas were seriously puzzled over this question. The concept "the safest solution is your on-premises bare-metal" was trendy at that time, and remote workplaces considered as something exotic.
Over the past several years, technology has raised far forward, and user awareness of cloud solutions became much more extensive. And now many users will confidently answer — sure, business needs clouds!
So we faced a range of more detailed questions:
What Cloud is better — either private or public?
What is a hybrid infrastructure, and why is it needed?
How to choose a reliable cloud provider?
How to ensure the security of your cloud project?
What type of cloud solutions can meet all my requirements?
Is a cloud project implementation costly?
You can find answers to these and many other questions related to the cloud migration of the business on the SIM-Networks blog. We write a lot about the advantages of hosting various business applications in the cloud infrastructure — corporate mail-server, a database, ERP and accounting systems, information security applications, etc.
Business owners and CFOs are very concerned about the security of the financial data of the company. You can learn how to provide it by moving the ERP system to the Cloud, reading in our article Why does ERP system feel better in the Cloud?
Not so far long ago, not only business owners but also many IT professionals were wary of the clouds. It was due, firstly, to a certain conservatism — after all, old and time-tested methods always seem more reliable than ambitious new ideas. Secondly, a lack of competent experts and professional information for some time formed mythologized ideas about cloud infrastructures in society. Thirdly, the early stages of technology sometimes generated to disappointments and negative experiences.
However, the time has put everything in its place. Enterprises at last fully appreciated the flexibility, cost-effectiveness, usability, and many other advantages of cloud solutions. In a digitalized world, the expectations and needs of customers, partners, and company employees are growing exponentially, and traditional IT systems are no longer able to meet them. The choice was made in favor of future technology, cloud solutions.
What is cloud technology?
In simple words, cloud computing — is a model for providing users with network access to a pool of computing resources through an API or browser, regardless of geographic location and time of day.
The cloud service provider is responsible for: configuring a cluster cloud pool; combining server and communication equipment, software and applications, additional services, storage systems, networks, etc. to an entire infrastructure; as well as ensuring system high-availability, fault-tolerance; stable connection to ISPs; information security of resources and users' data; support, maintenance, and upgrades of equipment and software, so on.
Users get access to cloud resources by renting a configuration of computing power that can be flexibly scaled (expanded or reduced) on-demand, depending on the current needs of the customer.
Nowadays, the cloud services market offers customers a wide range of infrastructure solutions: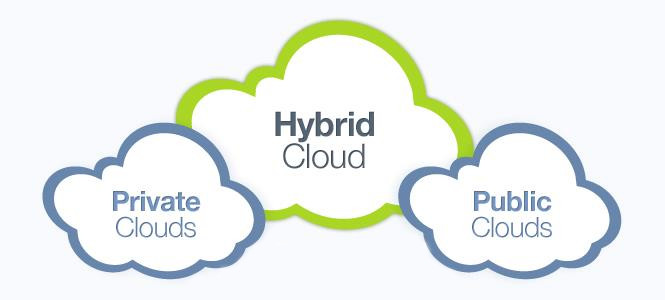 Public cloud (IaaS) — a multitenant pool of computing resource capacities located at the provider's datacenter. Each customer gets part of computing resources and storage, depending on his/her needs. All clients in the public cloud are isolated from each other;
Private cloud — a single-tenant, turnkey infrastructure, built for an individual client. The individual project of a private cloud takes into account business conditions, high-availability and fault-tolerance ensuring, data backup, scalability, information security, and other necessary options;
Hybrid cloud — the infrastructure solution that distributes of company's computing capacities and data between a public cloud and a private, either on-premises servers. Within the hybrid cloud, systems and applications with a stable load are deployed in the provider's private cloud or deployed on a local server cluster, and services with distributed over time dynamic loads are transferred to the public cloud;
Multicloud is a technological concept that is still gaining popularity in the IT world — the enterprise hosts its infrastructure in several public clouds of various providers. It is a complicated solution, both technologically and conceptually, and economically and from a security point of view. It requires an extraordinary strategic vision from the business and strict criteria for choosing providers. Nevertheless, companies have been actively implementing a multicloud for several years.
The choice of infrastructure solution depends entirely on the business specifics, its needs, its size. Note that the cloud infrastructure should match your company as a perfectly tailored suit for a gentleman. So, each cloud solution for each client needs to be provided individually.
Cloud solutions did not appear in the blink of an eye. Like any natural phenomenon, like any human invention, cloud technologies went through several stages of development, which were preceded by the creation of the Internet and the discovery of virtualization technology. These stages have now turned into cloud service models, and you can learn more about them in our article Cloud Service Models: What does IaaS, PaaS, SaaS mean?
Cloud services vs. on-premises servers
The advantages of the new technology are not immediately well visible to everyone. But over the past decade, most IT experts agreed that moving business into a cloud is a reasonable decision. Successful cases of industry colleagues and competitors, who migrated their IT infrastructure to the cloud, convince companies to reconsider their attitude to cloud technologies.
At first glance, it's more convenient to have an on-premises server or even a data center. But after more deep analyzing, we'll see that the issues of equipment purchasing and depreciation, backup and storage for data archives, fault-tolerance and high-availability of services, ensuring information and physical security of servers and corporate data, maintenance of IT staff, systems and software updating, and many others aspects make up a massive layer of problems. To solve all of them you will spend a lot of time and investment. Sure, it would be much better to redirect this resource to the core business activities!
In contrast to on-premises hosting, the enterprise cloud infrastructure has a lot of undeniable advantages:
24/7 accessibility — access to information stored in the cloud round-a-clock from everywhere can get every user of a corporate IT system connected to the Internet;
Access regardless of the hardware platform — user can connect to a cloud from any device, either a personal workstation or a laptop as a thin client, or a tablet, or a smartphone;
Mobility — users can connect to the corporate system in the cloud from everywhere in the world where the Internet is available. It is a very convenient capability for company employees to hold online meetings, work remotely, receive and update information while on a business trip, and even solve urgent problems while on sick leave or vacation;
Cost-effectiveness — the corporate IT expenditure transform from CapEx to OpEx. Since there is no need to keep expensive hardware and software on the company's balance sheet, maintain a staff of engineers and technicians to support on-premises equipment, spend money on electricity and cooling servers. When the company's infrastructure is deployed in the cloud, the customer pays only for the rental of computing resource capacities and the software licenses rent, if necessary;
Flexibility — while a cloud project is creating together with the consultants of the provider, the company can determine the actual need for resources. If necessary, these resources can be increased, but if they are not in demand, they can be reduced, which will avoid overpayments for idle capacities. Such scaling in the conditions of cloud hosting is much faster and more economical than in the case of on-premises servers;
The professional equipment — to solve the business tasks with the highest performance, you should use the server and network equipment of an enterprise-class. It is not difficult for a cloud provider to purchase such equipment and host it in a datacenter. Moreover, the provider ensures all the necessary conditions for the long-term working of many industrial-format servers in the professional datacenter. For most companies, this kind of IT expenditure is too expensive and inefficient. So it's much cost-effectively to rent the required amount of resource capacity in the provider's cloud;
Reliability — state-of-the-art, top-notch cloud providers can ensure the outstanding high-availability, security, stability of the equipment. It is due to the ability to purchase and maintain professional equipment, and the conditions in the datacenter, necessary for fault-tolerance, redundancy, and continuous operation of the servers. Besides, a cloud provider uses advanced information security tools for data transfer and storage in the cloud. Moreover, if the cloud is deployed in Germany datacenters, the reliability of your infrastructure solution increases significantly due to the strictest law protection. And customizing of data backup transfer to remote storage will protect your critical business data perfectly.
Cloud advantages for business departments
Proper use of cloud-technologies will ensure the efficiency of all departments within the entire enterprise. Considering the benefits of cloud-based deployment of corporate systems and apps in the cloud, we focused on common points. Here below, a few examples of how different corporate departments can gain from the clouds: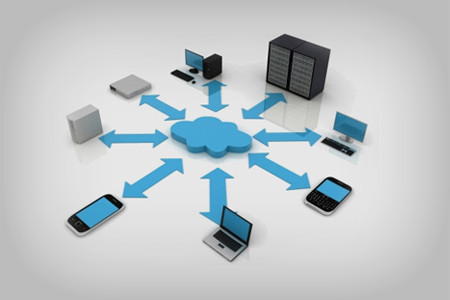 Sales and Marketing Departments:
sales managers get all the necessary information from any device any time from everywhere;
optimization of decisions and sales;
customer behavior prediction;
marketing strategy planning;
HR Department:
streamline workflow and collaboration through shared access to information;
the more convenient process of recruitment, motivation, dismissal, retention of employees;
professional training of employees, talent development, testing and level-up of skills and competencies in a convenient format on the job;
Customer Service:
self-service is available to customers; it reduces the load on operators;
centralization of the database;
combining all operations of interactions with the customer.
It is just the tip of the iceberg — each company, each department has its points to add to the list of advantages of a cloud-based corporate IT system.
Some use-cases of cloud
We started this article from the question, "Does a business need clouds?" But the more actual question should be formulated this way: "Why business needs clouds?" What customers' needs can meet the cloud-based IT infrastructure? Some enterprises are aimed to save costs; for some, the security is crucial, some companies are focused on processes optimizing. Each business decides this task depending on its business segment, on the size of the company, its strategy, the organizational structure, and even regulatory requirements.
For example, a financial institution cannot move all its systems to the cloud, since a massive pool of customers' personal data requires specific security guarantees to preserve bank secrecy. However, its non-critical applications that don't have a connection with the customer base — e.g., a website or a corporate university — are quite able to be deployed in the cloud.
In other words, it's entirely optional to migrate to the cloud all the systems and apps of the company — only a few ones can be selected. Let's look at some simple use cases for cloud-based business solutions.
Use case 1: Backup storage
This is the simplest option — to take backup data storage to the cloud. Backup experts advise storing copies of critical data remotely. A perfect solution — if your cloud storage deployed in a European datacenter, where data is transferred via secure encrypted channels, and data on storage drives is protected by hardware-based encryption. If necessary, you can ask your provider and recover data from backups remotely in the cloud. Thus, you will create a «clone» of your corporate infrastructure.
Use case 2: Stand-by Area
It is too expensive to arrange on-premises a redundant infrastructure with high-availability. So, instead of building your server cluster (in fact, it will be on-premises data center), use the cloud to organize a stand-by area. Companies use this option both in the SME sector and large corporations.
Use case 3: Resource capacity for peak loads
If your business has seasonally or time-to-time distributed loads, you can deploy in the cloud the apps that are used in a highly loaded period. Yes, this way, you create a hybrid cloud for your company! Numerous tools for integrating local and cloud applications on the market will ensure the effective operation of such an infrastructure.
Use case 4: Test and deployment environment for demanded projects
In companies with an extensive organizational structure, individual teams are involved in the development of projects demanded by business. Before starting a project, a resource audit should take into account everything, to the smallest detail, including space for product deployment. In spherical IT in a vacuum, this is done, but in our reality, it is rare. So, if the business dept is waiting for the application, but there are not enough on-premises computing resources for it, the cloud can help. Perhaps this decision even will help your final product exceed expectations.
Use case 5: Cloud migration of all corporate infrastructure
The cloud migration of the entire IT infrastructure to abandon a bare-metal on-premises is a classic option that is usually considered. It allows you to fully experience all the advantages of cloud technologies, which we described above. The provider takes care of the cloud migration of customer systems and tries to organize the relocation work in such a way as to minimize the impact on the business. The team of infrastructure engineers SIM-Networks, for example, pre-analyzes the workload of a customer and transfers its infrastructure to the cloud when downtime will be minimal. By the way, we do it for free. You can learn about how we implemented some of projects implemented by the SIM-Networks team from Business Cases and Our Customers' Stories.
Some more details about clouds
So far, we have considered clouds from the point of view of an interaction between a corporate customer and a provider. But most of us are also private users of SaaS cloud products. Social networks, email servers, online stores, file storage, a variety of games, forums, e-media — all of them are part of our life and... collect our data.
For last years, experts worry about the security issue of uncontrolled data in public cloud services — information left by the user, so-called digital footprint, can be stored for years without user's permission and even behind his/her back. The leakage scandals concerned user data from Facebook, Google, and other large web resources have shaken the customers' confidence in cloud security. And this triggered the emergence of one of the most common arguments against the cloud — "In the cloud, my privacy is not protected, my data can be stolen."
Yes. All of us, as private users, are at risk. And we are forced to rely on the decency of those whom we trust our data. Besides, people often carelessly hold their private information.
But the information security of corporate IT systems and customers' data, which delivers a cloud provider, is an entirely different layer of responsibility. Each provider has its ways to ensure cloud security. E.g., within the infrastructure projects implemented by SIM-Networks, data protection realized at three levels — technological (cryptographic algorithms, the hardware-based encryption of drives, etc.), legislative (protected by the Federal Republic of Germany Law), and physical (high-end datacenters certified in compliance with the Tier III and Tier III+ and ISO/IEC 27001). Besides, mandatory papers, as contracts, GTC, and SLA, protect the rights of the customer and guarantees the high-level service provided.
So, it is essential to choose the cloud infrastructure provider carefully. It is reasonable to consider the legislation of the country where the data is stored, the business goodwill, and the information security policy of the provider. Standard requirements include (but not limited to) the following scope of rules: all data should be stored only in encrypted form; data transfer between customer and cloud provides over secure communication lines; encryption keys should only be available to customers who own this information.
Anyway, a lot of enterprises agree that cloud technology is the trend-setter of the digitalized future. Because of its user experience, they have seen how the advantages of clouds increase its business efficiency.
Author: Alisa Kandieieva