First of all, a hosting service is the leasing of a part of server resources, and space to run your website or web application. A good choice of hosting administrative control panel for your account will bring you convenience and ease of use of the server. In addition to functionality, your choice of the user interface will also be influenced by pricing, as control panels are available in three categories:
free (ISPConfig and others);
paid (ISPmanager, cPanel, Plesk Onyx, DirectAdmin);
free with paid support for additional modules (VestaCP). The hosting control panel can be installed on a dedicated server or a virtual machine (VDS/VPS). As a rule, the panel contains sets of tools with basic and advanced functionality - for managing domain names and creating subdomains, users, e-mail addresses, sites, databases, file backups, etc. In addition, the administrative panel integrates with other specialized software that is installed on the web server and ensures the operation of the site/applications.
Let's list some of the most common hosting control panels.
VestaCP
Popular among system administrators, the VestaCP control panel (distributed open source) is characterized by minimalism - easy installation using a script, a simple graphical interface, and low consumption of server resources.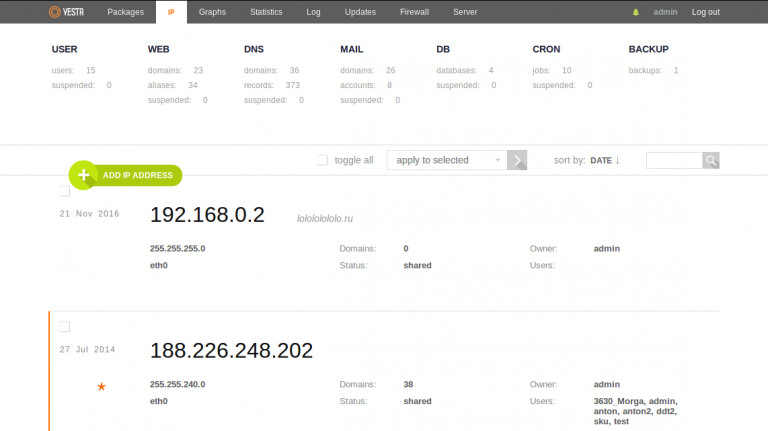 Some of the control functions are performed from the command line. It is recommended to install the VestaCP panel on a "clean" server, where there is no configured DBMS software, mail and file servers, etc. yet. Otherwise, there is a high probability of an error and the need to remove the rest of the software on the server, then reinstall VestaCP.
Attention: The free bundle of the VestaCP panel does not include a file manager - this is a paid option.
When you first enter the installed control panel, you must enter the URL (IP address and port number) in the address bar of the browser, then type Login and password. You will receive all this information in an email from our CustomerCare service after you place an order.
Note: When authorizing in the administrative mode of several control panels, you must specify the standard port (after the IP address). An example of the input format in the address bar of the browser: https://192.168.10.35:8083

Examples of ports assigned to various control panels:

ISPmanager :1500 VestaCP :8083 cPanel :2083
cPanel
An alternative option is the paid cPanel control panel, with powerful configuration tools and features to support you in reselling (reselling) hosting to your customers:
billing panel selection;
connecting various payment methods, etc.
Plesk Onyx
Paid control panel Plesk Onyx, widely distributed among hosters and resellers: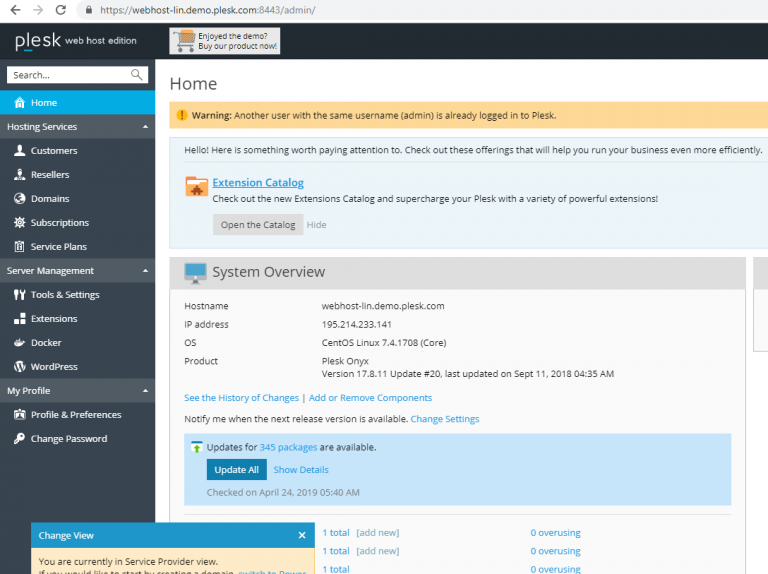 ISPmanager
In addition, we offer you an ISPmanager control panel with extensive server administration options.
You can read more about installing, configuring, and working with ISPmanager here: https://www.sim-networks.com/wiki/isppanelvds https://www.sim-networks.com/wiki/ispmanager-tune https://www.sim-networks.com/wiki/how-to-create-sub-domains-in-the-control-panel-ispmanager
For more information (regarding prices and technical support conditions for hosting control panels), please contact: https://www.sim-networks.com/customer-care