The importance of backups is hard to be overestimated, especially if the current IT environment considering. You may forget to clean up your teeth in the evening but if you forget to make your data backup it seems like a "Russian roulette" gaming. On the Internet, you can find out a crowd of scared tales about the fatal consequence of that kind of forgetfulness. While the backup is the great headache pill to most of IT experts, backup is permeated with myths. Let's demythologize it now!


The first myth: I don't need a backup, cause I use the good and expensive equipment
As it said one popular Russian book's hero, the human is mortal, and his mortality is unexpected. It concerns any hardware in the same extent. For example, ancient Romans told their system admins: memento mori, subcelestial! In the sense that everything can happen and your data reliability (including security, confidentiality, and availability) is the most important issue, cause their loss will be so painful and costly to you.

You can trust your equipment, its manufacturers, its components, and the data center where your servers are located in. But… Neither mathematicians, nor physicians, nor statisticians can't affirm the 100 percentage of the any event probability. So, you think that your equipment is 100% unassailable? Well, even an expensive and very good hardware can have a worthless power supply unit, that one day will fall out through the voltage swing and fry the server. What can you do in that case to recover your data? The only answer is – to use your last backup. No backup – no your data. And if your server has fried literally, your data can't recovery anyway, it's not a Phoenix bird! We advise you – make backups as often as it possible and with the reasonable schedule and store time.


The second myth: When I buy a hosting, the backup procedures are included into a deal
The current world practice established that backup is a service like a hosting provision or system integration. Note the special definition – BaaS, Backup-as-a-Service. European and American hosting providers consider this circumstance as a normal business practice, and their clients don't expect that this deal looks like a touristic all-inclusive scheme.

Sure, sometimes some low-hosters talks about free and daily, and reliable copying data backups. Or you can see some proposals like that: "Promo offer! Only one week! Locate your IT infrastructure in our DPC and get a daily backup for FREE!"

It sounds very good, but we know…

The sad truth is the backup organization process is a quite costly procedure. You need a hardware resource, you need a clever and experienced system administrators, you need a big space for data storage, you need a special software, at least! And your resource capacity is linearly proportional to your data to backup dimension. It's a simple arithmetic! Now, have you understood that this kind of service can not be free?

The third myth: Hosting provider is bound to do all of my data backups by default
The illusion spreaded quite wide that a company IT resources hosting provider is obliged to make backups by himself and to store all of them eternally and to give them immediately upon the request of the client. But, in his turn, the client have a full right to make nothing of the backup procedure at all, cause provider allegedly do everything and repair everything if it will need. And when shit happens – wow, the client is disappointed, why the provider didn't backups and how to recover data?! Well… Let's read attentively your contract with the hosting provider. Have you found there a paragraph about the liability of the hosting provider to make client's data backups? Have you found there essential elements listed – as the scheduled periodicity, backup rotation (or backup depth), retention time and so on? If any terms are not pointed in the contract, you did no order of the backup, and the hosting provider isn't obliged to do it by self-initiative. Why is it so – see The second myth.


The fourth myth: Backup is the same that redundancy or failover
No way! All of them are different things. A backup refers to the copying and archiving of computer data so it may be used to restore the original after a data loss event. Backups have two distinct purposes. The primary purpose is to recover data after its loss, be it by data deletion or corruption. The secondary purpose of backups is to recover data from an earlier time, according to a user-defined data retention policy, typically configured within a backup application for how long copies of data are required. Since a backup system contains at least one copy of all data considered worth saving, the data storage requirements can be significant. Organizing this storage space and managing the backup process can be a complicated undertaking. Nowadays, there are many different types of data storage devices that are useful for making backups. There are also many different ways in which these devices can be arranged to provide geographic redundancy, data security, and portability.

But in its turn, a redundancy and failover determine a hardware high-availability and uninterrupted cluster operations. When the one cluster node is failed another node take the lead in the processing data those are copying in real time from one node to another. These copies have not long-time store, cause their function is just to give to the user a maximum independence from voltage swings or network commutation's imperfections.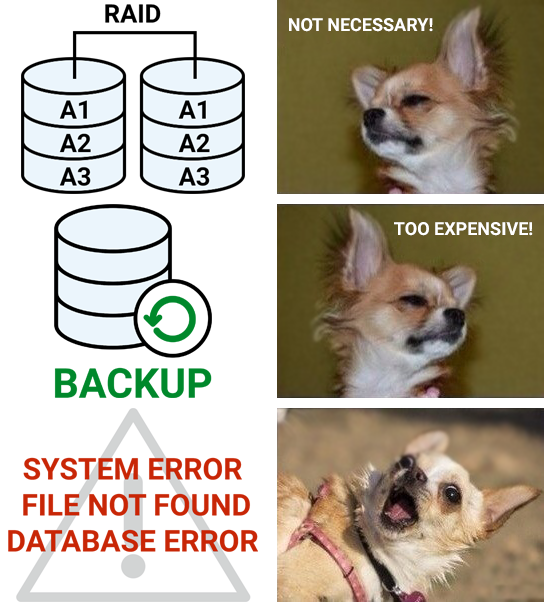 The fifth myth: Hosting provider will recover all of my data (as it point in my contract) – in any case
Yes, but not exactly. From one hand, words 'any case' can hide a nature disaster, or technogenic accident, or a 'human factor' from the provider's side. These kinds of situations, really, come to the terms of a contract and the hosting provider will make backup recovery of your data. Then if the data lost through client's fault, there's no provider's responsiveness. Not long ago, for example, in the one of a big American company, this kind of situation has happened – when the system administrator was fired out and then using a someone else's login and a password combination broke-in and 'clean up' every data which could found. The company's losses numbered in hundreds of thousands of dollars. It's clear that this problem source is on the client's (a company) side, who was be able to avoid the situation escalating. And it's clear that the company's hosting provider is not bounded to predict and to be ready for HR-conflicts inside his client's organization, cause this 'territory' is out of his area of responsibility.

Well, in the situation described above was no way out, however, in this case, the hosting provider helped his client (even that was an exception to rules). But, in other cases, when clients lost their login/password combinations and some computer trespassers get the system admittance and do many bad things there, who is responsible for this confusion? Oh, it's time to read the contract again: one of the essential elements is the client's responsibility for the lack of confidentiality. It's clear for everyone.


Summary
What should we tell as a result? Actually, we have some conclusions.
The first is: the backup is worth to be done. For your system and data backup procedure is necessary as a car insurance for you.

The second is: dealing with a hosting provider you always should ascertain all details concerned backup procedure. You have to read the contract attentively and clear all circumstances and terminology with your provider before you sign and close the deal. Do not forget – if something wrong will happen with your system it can cost too expensive for you.

The third is: don't be mistaken in terminology and remember that backup, redundancy and failover – all are different definitions. Take care of your correct understanding – it'll make you more quiet and happy :)

At last, we, SIM-Networks, would tell you a bit about our backup procedures. We offer to our Cloud IaaS clients a high-technology BaaS. One of its important preferences is the location of backup copies to the data storage in the data center area remote from the main client's infrastructure area. And you can use our iSCSI and FTP data storage for your backups, too. We propose you to locate your IT infrastructure in the advanced and modern data centers in Karlsruhe, the IT-capital of Germany. Your backups there will feel safe and very reliable!


Author: Alice Kandeyeva